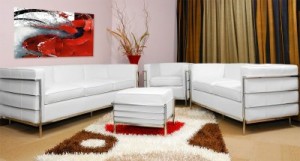 A living room can really feel empty if you don't have a coffee table sitting in the middle of it. Coffee tables not only provide a place to put things like books and ornaments, but also provide the functionality of being able to put things like snacks and coffee on them if you ever have guests over. Coffee tables come in many different shapes, sizes, and colors, and if you're willing to put a little work into finding the right one, you can guarantee that you'll be happy with your decision.
Traditional coffee tables are typically made of wood and darker materials so that they can blend in with other dark furniture. Traditionally designed homes are focused on bringing grandeur and eloquent design to home furniture, so buying a traditional coffee table can bring extra design flairs and opoulence to the room. Traditional coffee tables usually have some sort of design on the legs and table top itself, sometimes making it difficult to use it purely for a functional purpose. If you're just looking for a design rich piece of furniture, a traditional coffee table is definitely the way to go. For something a bit more functional, you may want to consider what are known as modern coffee tables.
Modern coffee tables make no bones about what they're out to achieve. With simple color designs and straight lines and corners throughout, a modern coffee table is designed to be used frequently. Depending on the type of coffee table you buy and the materials used in it, you may be able to treat the coffee table as a functional piece of furniture as opposed to a decorative piece, putting it through a little more wear and tear than you would a traditionally designed one. Remember that when buying coffee tables, be sure to measure your room so that you can make sure your coffee table of choice doesn't take up too much space or obstructs your walkways through the room.